This Week in EVs: Rivian and Lucid Fall while China and Tesla Ball
Wall Street analysts remain steadfast and bullish on these companies for 2022.
---
Wall Street Remains Bullish on China
A new analyst initiated coverage on the three main Chinese EV makers this week as Macquarie analyst Erica Chen provided an overweight position on Nio (NYSE:NIO), XPeng (NYSE:XPEV) and Li Auto (NASDAQ:LI). Chen provided a price target of $37.70 for Nio, which certainly isn't the highest mark on Wall Street, but still provides a 20% upside from its current trading levels. While all of these stocks have been pummeled over the past few weeks, Wall Street analysts remain steadfast and bullish on these companies for 2022.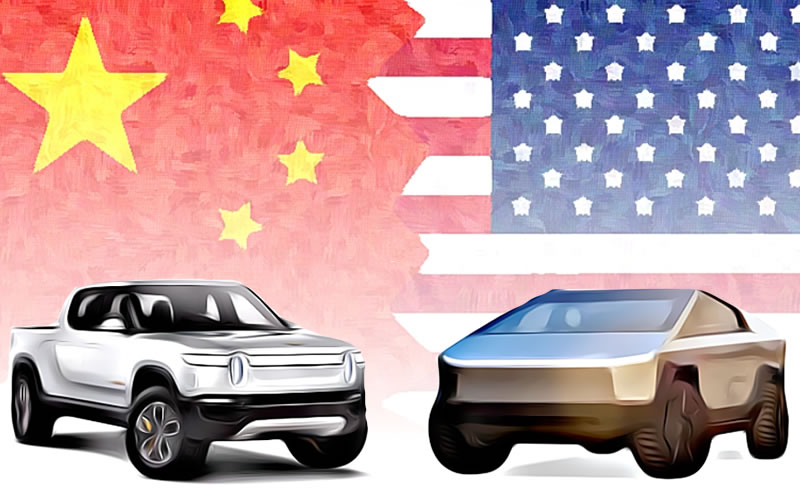 Last year saw a major shift in the Chinese market from gasoline to new energy vehicles or NEVs. Total sales for the year were up nearly 200% from 2020, and with increased production capacity upcoming for Nio we will likely see another major surge in 2022. In my opinion, aside from the reduction in subsidies for consumers, electric vehicles are mostly safe from the threat of a regulatory crackdown from the Chinese government. China knows that competing with the mega-cap tech companies from America is difficult at this point, so the electric vehicle sector serves as a market where China can lead the world over the next decade.
More Trouble for Rivian?
Electric truck maker Rivian ($27.5|10.60%) officially released its production numbers for 2021. The company produced 1,105 electric vehicles which did fall short of its goal of 1,200 for the year. Surprisingly, the stock rose after the news as investors seemed impressed by the figures. Rivian also unexpectedly announced that its COO retired in December despite being in the middle of a ramp up in production. While it's not always great news when executives leave a company, but apparently this departure had been planned for several months.
I've written before about how I am not sold on Rivian, despite how bullish I am on the electric vehicle sector. I think the company can do reasonably well in the US where SUVs and pickup trucks are popular, but markets like China and Europe are primarily sedan-centric. We'll see what the future holds for Rivian but thus far I haven't been too impressed.
Lucid Talks Saudi Arabia While Tesla Gets Upgraded
Earlier this week Lucid Group (NASDAQ:LCID) finally announced its plans for its expansion into the Kingdom of Saudi Arabia. Lucid anticipates having a working factory in the Kingdom by 2026, while expansion into Europe is scheduled for the end of 2022. It is an interesting strategy for Lucid as it veers towards the road less travelled by expanding to the Middle East. Most other EV makers have targeted China as their primary market to expand to. I've also been critical of Lucid in the past, and I'm not sure if the company sees the oil producing leader of Saudi Arabia as a viable EV market or is just appeasing its largest investors: the Public Investment Fund of Saudi Arabia.
Finally, it's not a weekly update without checking in with Tesla (NASDAQ:TSLA). This week the industry leader received some more favorable upgrades from Wall Street analysts. Wedbush and New Street analysts chimed in on the stock and provided very bullish upgrades of $1,400 and $1,580 per share for 2022. New Street provided an impressive production estimate of 1.8 million vehicles for 2022 given the two new GigaFactories in Austin and Berlin. It's not very much of a reach, but Tesla continues to be my top pick in this industry alongside Nio.