Nio Comes to America and Ford Gets Digital
Nio is About to Get Aggressive and Ford announces that it has reached a five-year deal with fintech company Stripe.
---
Nio is About to Get Aggressive
Chinese EV maker Nio ($8.82|3.16%) had a down year in 2021, and has lost nearly 50% of its value over the past 52-weeks. It has lagged its domestic rivals XPeng (NYSE:XPEV) and Li Auto (NASDAQ:LI), and trails market leader BYD in new energy vehicle deliveries. But there are reasons for Nio investors to be optimistic this year, and it starts with the company's aggressive expansion strategy.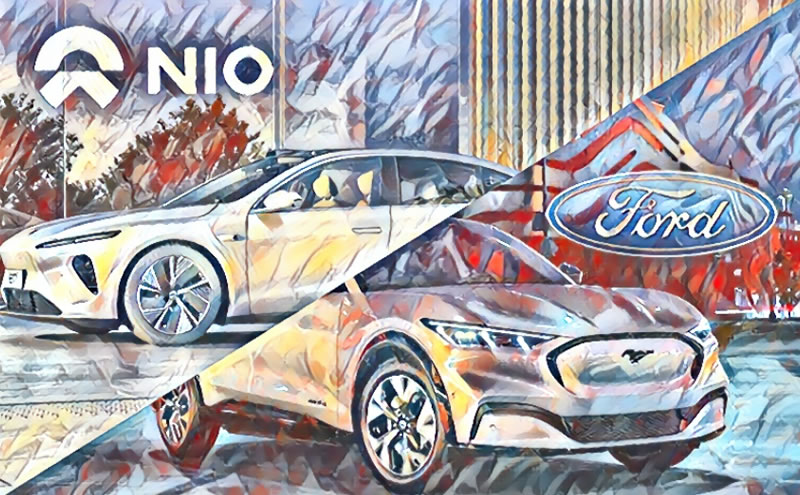 At its Nio Day Event in December, the company reported that it will be heading into 25 new markets by 2025. Thus far the company has remained tight-lipped about its plans to enter the US market, although most view this transition as inevitable. Over the weekend, it was revealed that Nio has leased a massive 200,000 square foot building that looks to be serving as its US headquarters in San Jose, California.
So Nio hasn't officially released any information about expanding to the US, but the company has posted job opportunities and has now leased an enormous complex for its headquarters. Is it just me or does it sound like Nio is planning to come to the US sooner rather than later? It makes you think that if the ordeal with Didi (NYSE:DIDI) and the Chinese government had not happened, perhaps Nio would have already been making its way stateside.
This development can only be seen as bullish for investors, and a potential wakeup call for its American rivals Tesla (NASDAQ:TSLA) and Lucid Group (NASDAQ:LCID). The only problem I foresee is how popular an automaker from China will be in the US. It's not like Nio's vehicles are cheap, and the ever-present geopolitical tensions between China and the US might be causing some preconceived biases from US consumers. This situation is definitely one to monitor throughout 2022.
Ford Goes Digital
Well, kind of. On Monday, Ford (NYSE:F) announced that it had reached a five-year deal with fintech company Stripe to help develop Ford's digital payments and eCommerce segment. The deal is a part of Ford's ongoing re-branding, as the legacy automaker moves towards providing a completely digital and online sales experience. Ford recently made headlines for hitting the $100 billion market cap for the first time in its long history, as its push into electric vehicles has been well received by the markets.
This could be ushering in a new age of car shopping for consumers, and one that certainly points towards being established in the Metaverse. Virtual reality test drives, anyone? While Ford is likely planning to keep some in-person showrooms, a majority of larger-sized dealerships look to be moving online. It follows a trend of companies like Lucid Group and Tesla who offer its customers showrooms, rather than full-on dealerships.
Ford has been making some progress as of late, but analysts aren't exactly buying the recent surge. I myself am not sure exactly how to read the price action in Ford's stock. The Ford F-150 Lightning edition will likely be the model that makes or breaks Ford's legacy as an electric vehicle maker. The market for Mustangs and Broncos is more limited than you might think so Ford really needs to bank on the F-150 pulling its weight. At these inflated prices I'm not a buyer, but I am coming around on legacy automakers being able to take a significant portion of the EV market as consumers flock to brands they know and trust.