Why Tesla Rebounded but Lucid, RIvian, and Nio did not
Now that Musk is finished for this year, investors seemed to take that as a bullish sign.
---
Why Tesla Gained this week
You might have noticed some interesting price action this week in the electric vehicle sector. It seems like Santa Claus came early for Tesla (NASDAQ:TSLA) investors, as the industry leader bounced back with authority after falling as low as the $900 price level late last week. Tesla had been mired in a combination of factors as of late, including general market weakness in growth names and an ongoing pullback in the NASDAQ index.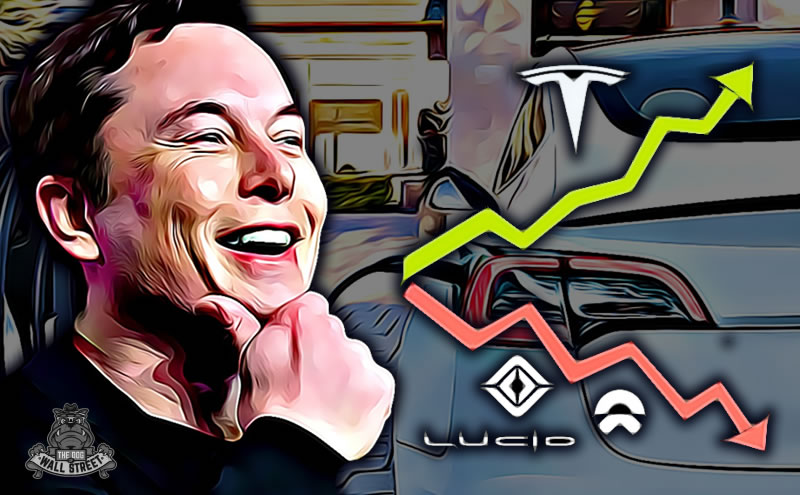 But earlier this week CEO Elon Musk announced that he has mostly completed his sale of Tesla stock in order to pay his yearly taxes. Investors seem to always associate an executive selling stock as a negative, but we know that insider stock selling can happen for a myriad of reasons. We have to remember that executives have a large part of their wealth tied up in company stock, so if they need some liquid capital like Musk needed for taxes, selling stock is the fastest way to access those funds.
Now that Musk is finished for this year, investors seemed to take that as a bullish sign. Were you able to take advantage of the dip?
Why Rivian, Lucid, and other EV makers did not
While Tesla rebounded nicely this week, other EV makers were not as lucky. Lucid Group ($18.22|4.35%) finished the week down by over 2% despite three consecutive positive sessions for the NASDAQ index. The company continues to struggle in recovering from the recent SEC investigation, which has yet to be concluded. Investors seem to be unclear as to what to do with Lucid's stock. While all signs are pointing to the company growing exponentially over the next couple of years, it remains to be seen how well luxury EVs will sell, particularly with other automakers like Toyotoa and now NIO ($20.05|4.59%) focusing on the mass market consumer.
Electric truck maker Rivian (NASDAQ:RIVN) also closed the week down nearly 4% as the stock continues to recover from the earnings call selloff. Wall Street analysts remain bullish on the company, but it is just so difficult to look past the $87 billion market cap in its current position. Rivian does have over 70,000 reservations for its R1T truck and R1S SUV, as well as an order of over 100,000 delivery vans for Amazon (NASDAQ:AMZN) that should keep production lines busy for the foreseeable future.
Finally, Nio ($20.05|4.59%) managed to rally by 3.35% this week, but is still down over 26% during the past month. Nio held its fifth annual Nio Day investor event last week and unveiled its ET5 sedan that many believe will one day challenge Tesla's Model 3. Nio also announced a partnership with Warren Buffet-backed BYD to create a new sub-brand that will feature more affordable electric vehicles for the Chinese market. Given all the headlines, Deutsche Bank analyst Edison Yu added Nio to his fresh money list for 2022, after stating that much of the headwinds for the company have already been baked into the recent sell off, and that Nio has some impressive growth catalysts ahead of it in 2022. Yu also has a long-term bullish outlook for Nio, specifically referencing the company's plans of expanding to 25 new markets by 2025.