Amazon Eyes AMC: A Blockbuster Move in the Making
Amazon's rumored acquisition of AMC Theatres could potentially revitalize the struggling cinema industry, paving the way for a reimagined movie-going experience.
---
In recent years, Amazon (NASDAQ: AMZN) has transformed from an online retail giant to a multifaceted powerhouse, gobbling up companies such as Zappos, Audible, and Whole Foods. The company has even dipped its toes into the world of film with its $8.5 billion acquisition of MGM Studios. Now, it seems that Amazon may be setting its sights on the beleaguered movie theater industry, with rumors swirling that it's considering the acquisition of AMC Theatres (NYSE: AMC).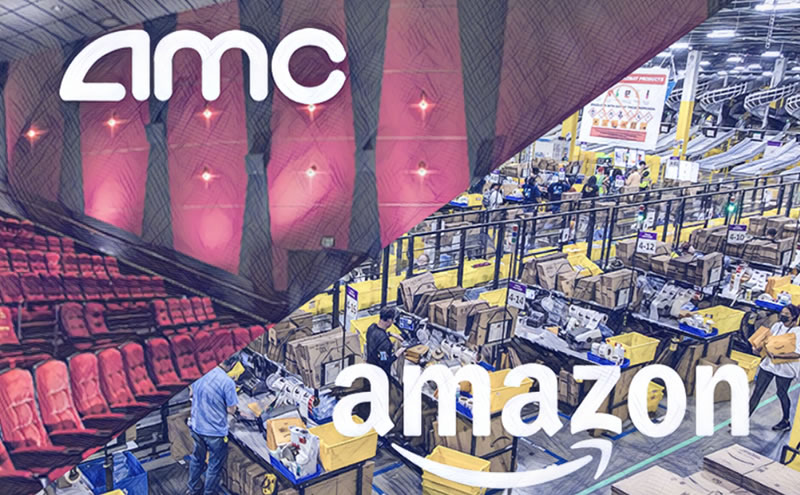 If the deal comes to fruition, this move could breathe new life into the struggling theater chain, which has faced significant challenges due to the pandemic and shifting audience preferences. AMC, the world's largest theater chain, saw its shares jump as much as 18% following these reports. This news also coincided with Apple's announcement of spending over a billion dollars annually on theatrical releases, giving a much-needed boost to the cinema industry.
Imagine grabbing a fresh bucket of popcorn and settling into a comfortable seat at your local Amazon-owned movie theater, ready to enjoy one of the company's exclusive releases. With Amazon's vast resources and innovative approach, it's not a stretch to picture the company reinventing the movie-going experience, creating a unique blend of retail, dining, and entertainment options that could revitalize the industry.
One might even liken Amazon's potential foray into movie theaters to a superhero swooping in to save the day. Like an unexpected plot twist in a summer blockbuster, Amazon's entry into the theater business could shake up the industry, creating a ripple effect that challenges other major players to innovate and adapt. It would be as if the Avengers themselves arrived to tackle the challenges faced by movie theaters, with Amazon's ever-expanding empire leading the charge.
Of course, not everyone is thrilled by the prospect of Amazon extending its reach further. Detractors argue that the company's growing dominance could lead to less competition and stifle creativity in the film industry. Additionally, there are concerns that Amazon's potential control over both content creation and distribution could grant it too much power over the market.
Nevertheless, it's hard to deny the potential benefits of Amazon's entrance into the movie theater business. With its deep pockets and willingness to invest in creative solutions, Amazon could be just what the doctor ordered to revitalize the ailing industry. A rejuvenated theater experience could tempt audiences back to the big screen, enticing them away from their cozy living rooms and streaming services.
Ultimately, the success of this potential venture will depend on Amazon's ability to balance its own interests with the needs of moviegoers and the film industry at large. If the company can manage this delicate dance, then who knows? We could be witnessing the dawn of a new golden age for movie theaters, brought to us by none other than Amazon itself.
So, grab your popcorn and stay tuned for the next thrilling installment in the ongoing saga of Amazon's ever-expanding empire.