What in Pete's Name is Happening to Netflix Stock? Is it Time to Dump?
Investors were disappointed when Netflix only added 8.3 million new customers from October to December 2021.
---
Netflix (NASDAQ: NFLX) woes have continued from 2021. Investor hopes of a quick rebound from 2021 were erased when it forecast weak subscriber growth for Q1 2022. That news sent its shares plunging 20%. Netflix is currently trading at (374.40 USD) which is (-38.88%) from its 1 month High. Men! This is scary to watch. But what could be wrong with this pandemic-favoured Streaming Company?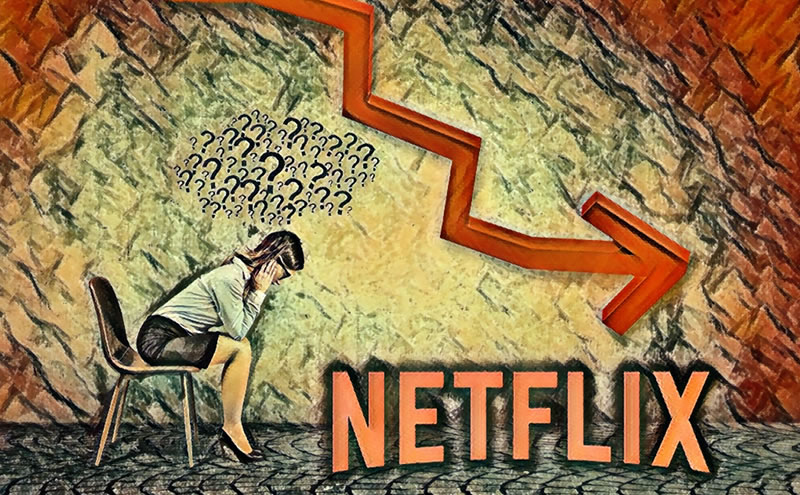 According to Netflix, the world's largest streaming service, growth for Q1 2022 would see it add only 2.5 million customers, less than half of the expected 5.9 million by analysts. Netflix blamed the dismal forecast performance for the quarter on the late arrival of much-awaited content such as season two of "Bridgerton" and "The Adam Project," a time-travel movie by Ryan Reynolds.
On Thursday, Netflix (NASDAQ: NFLX) shares nosedived by 20% to $408.13. But competitor, Walt Disney ($92.55|0.43%), which was also staking its future on streaming, saw its shares fall by 4%. In addition, Roku (NASDAQ: ROKU), a maker of streaming devices, saw a fall in share value of 5%. Investors were disappointed when Netflix only added 8.3 million new customers from October to December 2021. Despite releasing hit movies such as "Red Notice" and "Don't Look Up." Expectations were 8.4 million. Overall, at the end of 2021, the total subscriber count was 221.8 million.
Netflix believes that the statistics are confounding, but it attributes the slow subscriber growth to the ongoing COVID-19 pandemic and hardships it has inflicted globally, especially in Latin American countries. "We saw a lot of bumpiness due to COVID, making it hard to make projections of subscriber numbers, but business fundamentals are pretty solid," Co-Chief Executive Ted Sarandos said.
On the revenue side, the company satisfied estimates. It had a revenue of $7.71 billion, which translated to an adjusted earning per share of $1.33, while the estimates were 82 cents. Netflix was forced to raise prices in the United States and Canada to compound its woes in its biggest markets. Analysts say that growth in these two countries has stagnated, and the company is forced to look overseas for growth.
It should be recalled that Netflix had a roller coaster ride during the pandemic. Most people were locked at home, and movie theaters were closed during that period. During the pandemic in 2020, it picked up more than 36 million new subscribers but in 2021, things slowed, and the new customer count fell to 18.2 million.
Analysts expected Netflix (NASDAQ: NFLX) growth to normalize last year, but that never happened. Its pre-pandemic growth in 2019 was about 27 million. The company says it is hoping for a normalization this year because it has an upcoming slate of programs that include "Ozark" and "Stranger Things" and a three-part Kanye West documentary. Only time will tell if demand will pick up with these new programs.
Competition might also affect its marginal growth, although it was still growing in every country where it launched new streaming content. "Streaming has supplanted linear entertainment around the world, so we are still optimistic in the long-term," Netflix said in a letter to shareholders.
Sarandos believes the future is bright for Netflix. He says there has not been any decline in customer engagement or retention. The switch from traditional television to streaming is opening up opportunities worldwide. Despite his assurances, the stock remained low at 20%. Netflix (NASDAQ: NFLX) has ventured into video gaming to attract new customers, especially mobile video games. The company released ten games in 2021 and will continue to expand its gaming portfolio this year.