Don't be Fooled by GameStop or Rivian
Some of our favorite stocks from 2021 are down 40% to 50% now, with no reprieve in sight.
---
It's been a tough start to the year for investors, as the pullback from late in 2021 has continued into 2022. The NASDAQ tumbled by 5% in the first week of trading as rising interest rates and the implementation of tapering policies by the Federal Reserve have hit growth sectors the hardest. Some of our favorite stocks from 2021 are down 40% to 50% now, with no reprieve in sight.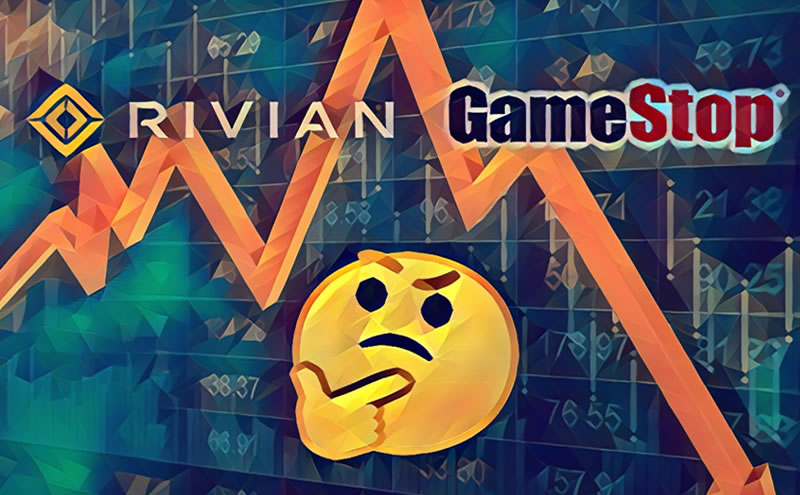 But that doesn't mean there aren't some stocks that deserve this whipping. Recent lead meme stock AMC (NYSE:AMC) comes to mind as shares are down 50% over the past six months. I might take some flack for that but wait until you see one of my choices later. The fact is, the markets will go through these pullbacks and it is up to you as an investor to either choose to remain invested or sell your shares and head for the hills. Here are two stocks whose recent performance has fooled some into thinking they are turning things around.
GameStop (NYSE:GME)
Ah, GameStop. It's been a while since we've heard from Reddit's favorite stock. In the background, Ryan Cohen has been working diligently to create a new brand and identity for the long-standing video game retailer. Several people have discovered that GameStop has posted positions for blockchain and NFT specializations. Last week, GameStop's stock jumped by over 20% during intraday trading following an announcement from the company that it would be launching an NFT marketplace and building partnerships in the cryptocurrency industry.
So GameStop is following in the footsteps of companies like OpenSea, which is touted as the biggest NFT marketplace on the internet. Recently, the NFT marketplace alone was valued at $13 billion for OpenSea, which is more than the market cap of GameStop itself. But hold on, aren't NFTs in a bubble right now? Price and value for NFTs are bound to fall back to Earth this year after the frenzy has died down. GameStop's development is nice for the company, but it might be a case of being a little too late to the party. The market agreed as the stock fell 15% after the initial surge on Friday.
Rivian ($79.95|-0.45%)
I've written about Rivian before, and so far in its early stages I don't have many positive things to say unfortunately. Last week the stock briefly dipped below its IPO price, and even still I believe the stock and company are overpriced. I mean, the electric delivery truck deal with Amazon (NASDAQ:AMZN) was what Rivian investors and the company itself were hanging their hats on. This is what set it apart from other early-stage EV makers. Well, all of that changed last week.
Amazon signed on to partner with Stellantis, the parent company of automakers like Chrysler and Dodge. Not only did Amazon sign on with another automaker, it signed on to create another electric truck: the Dodge Ram ProMaster EV delivery truck. Stellantis is even allowing Amazon to collaborate on the software that will go inside its electric vehicles moving forward. So where does this leave Rivian? You tell me. It still has a large order from Amazon but the eCommerce giant is clearly not interested in being monogamous in the booming EV industry. I had my doubts for Rivian, and now they have been confirmed by it's biggest investor. For now, Rivian is nowhere near my radar, and I can't see that changing anytime soon.
---