2 Stocks for Super Bowl Sunday
So is there a way to invest in the Super Bowl?
---
How to Invest in the Superbowl
It is one of the great annual traditions in the United States: the NFL's Super Bowl championship game. Last year's matchup saw over 100 million people in the US alone watching the game, with many more worldwide. This year's game looks to be a competitive one with the Philadelphia Eagles and Kansas City Chiefs meeting in Phoenix, Arizona. With millions of eyes on this game, advertising and commercials have always been sold at a premium. This year, a 30-second ad during the game will cost upwards of $7 million.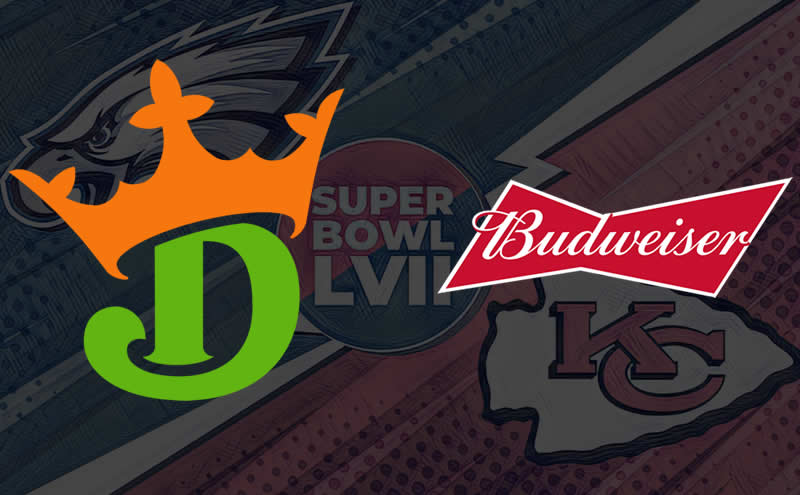 So is there a way to invest in the Super Bowl? You would think that such a heavy investment in ad time would pay off for these companies. While it might be easy to focus on companies like Apple (NASDAQ: AAPL) which is the new sponsor of the half-time show, I like to look at the game through a different lens. Here are two stocks that certainly have an opportunity to benefit from the Super Bowl this weekend.
DraftKings (NASDAQ: DKNG)
One aspect of sports that has really grown in popularity in recent years is legalized betting. The American Gaming Association recently reported that it estimates that a record 50 million adults in the United States will be placing some type of bet on the Super Bowl this year. This is a staggering 62% growth from last year's figure. The agency is anticipating that these adults will wager more than $16 billion on the game, more than double the figure from 2022. DraftKings is one of the largest retail sportsbooks in the country and has over 10 million registered users. The platform usually provides lucrative sign-up bonuses to new players so we can expect a bump during Super Bowl weekend. Shares of DraftKings have rebounded by 44% so far in 2023 and the company is coming to a crucial time of the year that includes the Super Bowl, the March Madness tournament, the NBA playoffs, and the start of the MLB season. It might be worth a speculative add for the stock which should have a strong quarter as sports betting continues to grow in popularity across the United States.
Anheuser-Busch InBev SA (NYSE: BUD)
Otherwise known as the company that makes Budweiser and Bud Light, two of the most popular beers in America. While Anheuser-Busch is a perennial sponsor of the Super Bowl and the NFL, do not underestimate America's ability to slam back endless amounts of beer this weekend. This year might be a bit different for the St. Louis-based company though: it is the first time that it will not have exclusive advertising rights at the Super Bowl. This means that some of its rivals will be able to run ads including Heineken and Diageo. Still, Bud Light was once again the top-selling beer in America in 2022. Considering one beer at the 2022 Super Bowl cost $17.50, it seems like Anheuser-Busch is doing just fine with some pretty generous margins. Not a fan of Bud Light? The company will also be making a ton of money selling its other products including Stella Artois, Becks, Michelob, Busch, Hoegaarden, and Nutrl vodka seltzers.