Is Amazon Set to Compete With SpaceX's Starlink as Satellite Network Provider?
Project Kuiper is yet to launch any satellite internet service in space.
---
This week, Amazon Inc. ($142.68|3.61%) announced that it had secured 83 launches to organize a satellite constellation over five years in a project called Project Kuiper. Project Kuiper's constellation will beam broadband Internet from outer space to areas with low internet access. Amazon has shown it is taking on SpaceX's Starlink with this announcement.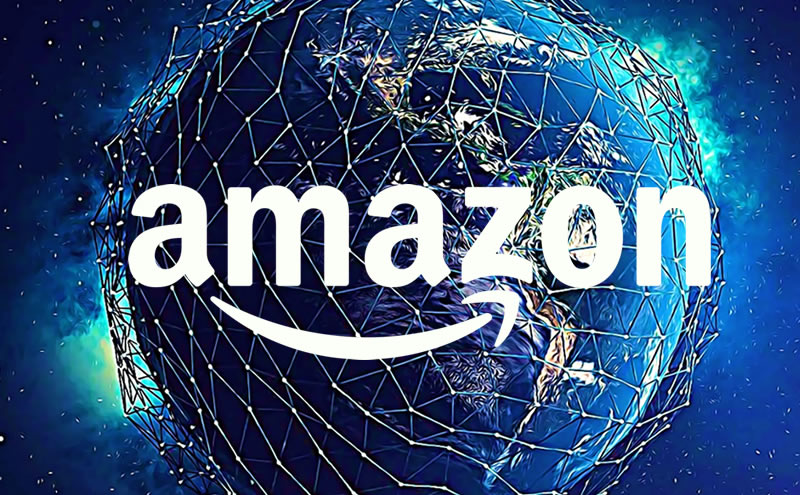 The e-commerce giant inked the deal with Jeff Bezos' Blue Origin, Europe's Arianespace, and United Launch Alliance (ULA). ULA is a joint venture operated by Lockheed Martin and Boeing Co.
Launched in 2019, Project Kuiper's focus is to use more than 3,000 satellites orbiting in low-earth orbit to transmit high-speed, low latency internet to customers, including businesses, governments, and households. Rajeev Badyal, the vice president for technology on Project Kuiper, said that Amazon decided to use multiple providers for the project's launch because it will reduce the risks associated with launch vehicle stand-downs. Hence, it will pass on the cost savings to customers.

Arianespace's Ariane 6 rockets will carry out 18 launches, Blue Origin's New Glenn is tasked with 12, while ULA's Vulcan Centaur rockets will handle 38.

Why Project Kuiper?
Amazon said it is investing more than $10 billion into Project Kuiper. As you must be aware, the company wants to compete with SpaceX for the huge broadband internet market. Many underserved people on the planet do not have internet access, especially in rural areas or even while the internet service is sketchy in urban areas. That indeed is a vast market.
According to data released during the pandemic, which exposed the sizeable digital divide globally, about 4 billion people lack Internet access worldwide. SpaceX Starlink is already in that market, but it started operating in North American cities and rural areas. Amazon hopes to compete with SpaceX in that regard.
But Project Kuiper is yet to launch any satellite internet service in space, while SpaceX has already launched more than 2,000 satellites. According to plans released by SpaceX, by 2027, the number of satellites it will have in space will be about 47,000.
We believe that Project Kuiper will benefit billions of people, just as Starlink does. As announced by Dave Limp, senior vice president for Amazon's Devices and Services, the broadband internet service will have a reasonable price to reflect the disparity in the financial ability of rural versus urban dwellers in developing countries.
The satellite internet is already the Internet of choice for many governments because it is a more secure technology than terrestrial networks due to the added encryption technology. So we could say that Amazon is taking on the world in Internet provision just as it has gone global as an e-commerce giant.
Is This a Competitive Advantage For Amazon's Business?
Yes, It is. Amazon is already a leader in the provision of cloud services. I see Project Kuiper as a valuable service for cementing that dominance in the cloud service space. There is already talk making the rounds that there will be a merge of Amazon Web Services (AWS) with Project Kuiper. This will be a synergy that will see the e-commerce giant providing a supplemental service to its customers.
At the re:MARS conference in 2019, while speaking about the shift of focus into Internet service, Jeff Bezos, the then CEO of Amazon, said that the company sees "broadband Internet as close to being a fundamental human need. So it's an excellent business that Amazon will undertake." A synergy between AWS and Project Kuiper will increase Amazon's earnings capabilities as it will not only transition to being an e-commerce giant and a tech giant.
I'm particularly excited about this announcement. What about you?