You May Be Affected By Russia's Retaliatory Sanctions If You Hold These Stocks
In retaliation, Russia has sanctioned personalities and businesses from corporate America like Netflix, Delta Airlines, and Blackrock. Russian sanctions will not have any effect on these companies.
---
This week, Russia announced that it had imposed sanctions on some 61 Americans and businesses. This is in retaliation to the sanctions America and her allies imposed on her. The US and European countries imposed sanctions on Russia in February because it invaded Ukraine. Prominent Americans affected by the Russian retaliation sanctions include Netflix co-CEO Reed Hastings. Other names on the list are Universal Pictures President Peter Cramer and top executives from airlines like Delta Airlines and United Airlines. Russia also included top executives from BlackRock.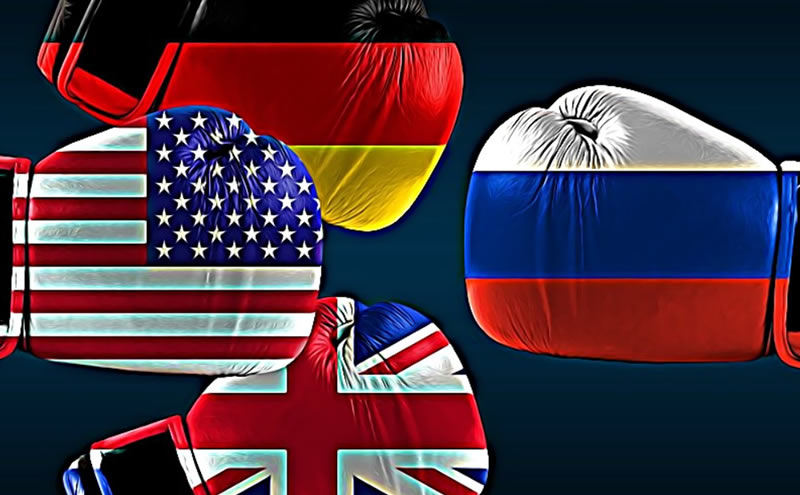 Here's a snapshot of the profiles of three companies affected by the Russian retaliation sanctions.
1- Netflix Inc (NASDAQ: NFLX)
Netflix joined many corporate bodies in imposing sanctions on Russia due to the invasion of Ukraine. First, Netflix (NASDAQ: NFLX)stopped carrying 20 recognized Russian free-to-air channels. Then, later in March, Netflix paused all projects from Russia and finally shut down all services to Russia.
With the shutdown, Netflix lost 700,000 subscribers. That loss became a 200,000 customer loss in the global paid streaming report for Q1 2022. In addition, Netflix says it will lose $2 million for the Q2 2022 season-ending this June.
The events in Russia will complicate Netflix's push to increase its revenue through subscriber growth. Already, Netflix has issued guidance that its revenues for 2022 would represent a 36% fall year-over-year. Nevertheless, Netflix beat estimates for Q1 2022, reporting earnings per share of $3.53 against an estimate of $2.89. In addition, its revenue matched the forecast and stood at $7.9 billion.
We believe that Netflix will shrug off the loss in the Q3 season. Rather than focusing on Russia, it concentrates on growing its subscriber base in other European countries. Meanwhile, Netflix has outlined a plan to explore ways to compensate for the shortfall. Some of the programs include adding lower-priced subscription tiers for existing subscribers. This is a radical shift from the current subscription model.
Netflix is an excellent stock to buy for the long term. With its current price of $182.94, the stock is currently sitting at a P/E ratio of 16 making it cheaper than ever. I will encourage the dumping of this stock until the market recovers. If not, it is set for lower lows with the situation on the ground.
2- Delta Airlines Inc. (NYSE: DAL)
Delta Airlines suspended its agreement with Russian Aeroflot in February. This was after the US sanctioned Russian businesses and personalities over the invasion of Ukraine. That suspension means Delta Airlines will no longer carry passengers to Russia or fly over Russian airspace. It will also not share codes with Aeroflot.
Russia's recent retaliatory sanctions will not affect Delta Airlines' top executives. However, the short-term impact is that Delta Airlines flights to Asia would have to take a longer route, which would mean increased costs for passengers flying to Asia.
Despite the higher fares and surging costs of fuel for Delta (NYSE: DAL), the Q1 earnings report was perfect. It beat the market's expectations. In addition, there was a rise in bookings, which reduced the effect of these higher costs. Delta has even forecasted that sales for this year will return to pre-pandemic levels.
You will note that many airlines are still recovering from the demand slump of the pandemic. But Delta has shown much resilience during this time. Therefore, we believe that Delta is still an excellent stock to buy. However, the effect of the retaliatory sanctions may come into play in the short term. This thus presents a perfect opportunity for Dollar Cost Averaging. Moreover, vacationers do not seem to mind the higher fares airlines charge.
3- BlackRock Inc. (NYSE:BLK)
Blackrock is the world's largest asset manager. Unfortunately, the investment firm has been among the company's worst affected by the Russian invasion of Ukraine. First, it suffered $17 billion in losses due to its holding of Russian securities in March. Then it suspended trading on its Russian ETFs. Then, in May, it notified customers that it was shutting down Russian ETFs.
Although it's looking as if Blackrock(NYSE:BLK)is absorbing the impact of those losses perfectly well. A look at its Q1 2022 earnings report showed that it missed the forecast by just $67 million and recorded $4.07 billion in income. Moreover, its earnings per share beat estimates and came in at $9.52. So in the long term, the effect from Russia won't be a permanent dropback.
We can say that Blackrock's Russian investment is just a tiny piece of its investment portfolio. Currently trading at $617.67 USD, this stock is preparing for a further decline in the short term. However, Blackrock is one of the best growth stocks in the market. A bounce-back is near on the horizon.