Outsmarting Rivals in the Battle for Viewership
Netflix continues to dominate the streaming landscape, driven by its strategic expansion into ad-supported video on demand, crackdown on password sharing, and resilient performance amid economic uncertainty.
---
As we enter the era of streaming wars, Netflix (NASDAQ: NFLX) has been able to maintain its lead in the race. With shares up by around 7% in the last week, and 10% YTD, it seems that the streaming giant is on the brink of another breakthrough. Bank of America remains bullish on the stock with a $410 price target, citing three major catalysts that could drive the company's growth.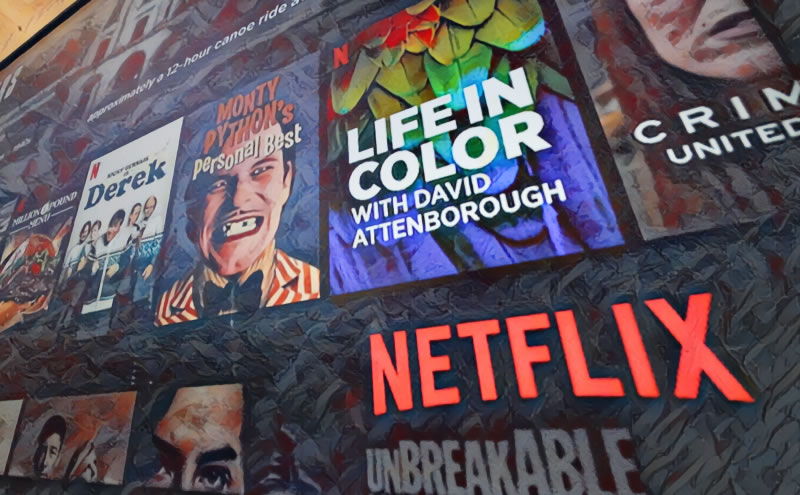 Firstly, Netflix's aggressive push into ad-supported video-on-demand (AVOD) services could be a game-changer. With its competitors struggling to balance their pricing and advertising models, Netflix stands out by offering a seamless and ad-free experience to viewers. In a world where consumers are increasingly sensitive to interruptions and distractions, Netflix's AVOD strategy appears to be a winning formula.
Secondly, the company's recent crackdown on password sharing in Canada has shown promising results, with an acceleration in subscriber additions. This is a clear signal that Netflix is taking the necessary steps to protect its revenue streams and discourage unauthorized access to its content. As the company expands its password-sharing crackdown to other markets, including the U.S., we can expect to see further growth in subscribers and revenue.
Finally, it is important to note that while streaming is indeed an expensive business, Netflix has managed to get the formula right. The company has consistently invested in its content library and distribution network, ensuring that it remains the go-to platform for millions of viewers around the world. In contrast, other players in the streaming space have faced challenges in balancing their costs and revenue streams, ultimately lagging behind Netflix in terms of market share.
Of course, some analysts argue that now may not be the best time to invest in Netflix, with the economy on a decline and consumer wallets getting thinner. However, it is precisely during such times that the true winners and losers in the streaming wars will emerge. Netflix's strong fundamentals and strategic decisions position it as a compelling investment opportunity for those looking for growth at a reasonable price.
So, is Netflix a smart investment in today's volatile market? While some investors may choose to wait for a better entry point, the company's robust performance and well-thought-out strategies suggest that it has the potential to maintain its lead in the streaming space. As the market continues to evolve and competition heats up, Netflix's winning streak could very well be the beginning of a new chapter in streaming – one that cements its position as a dominant player in the industry.