Macy's stock jumps 20% on Q1 results
Macy's reported its fiscal Q1 results on Thursday. Shares jumped nearly 20%.
---
Macy's Inc. closed the regular session on Thursday nearly 20% up after the department store company reported its first quarter 2022 financial results.
From off-price to luxury, Macy's is a credible provider for top brands at amazing values. They let their customers showcase their personal style and celebrate memorable occasions, big and small, across their famous nameplates, including Macy's, Bloomingdale's, and Bluemercury.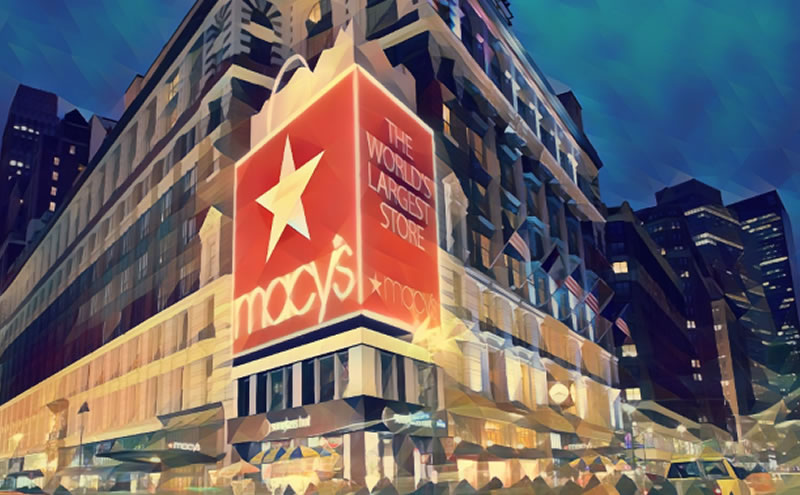 What was noteworthy in the earnings report
For the first quarter 2022, the company's net sales increased to $5,348 million from $4,706 in the first quarter of previous year. On an owned basis, Macy's comparable sales rose 10.7%, while on an owned-plus-licensed basis, comparable sales increased 10.1%.
The adjusted net income of the company in the first quarter of 2022 was $315 million compared to $126 million in the first quarter of 2021. While the adjusted EBTIDA increased to $684 million in the quarter relative to $473 million in the first quarter of 2021.
The $6.53 billion company that trades at a PE multiple of 5.14 is still down more than 15% for the year. In the earnings press release, Jeff Gennette, chairman and CEO of Macy's said:
"Our company delivered solid results in the first quarter despite a challenging operating environment. We delivered strong earnings, beating our estimates, and sales that were in line with our expectations. While macroeconomic pressures on consumer spending increased during the quarter, our customers continued to shop."
Other prominent figures in Macy's Q1 results
The adjusted diluted EPS is calculated as $1.08 in the first quarter of 2022 compared to $0.39 in the first quarter of 2021. The company's diluted earnings per share were $0.98 in the quarter compared to $0.32 for the previous year's same time period.
The gross margin for the first quarter of 2022 was 39.6%, an increase from 38.6% in the first quarter of 2021. The selling, general, and administrative expense was $1.9 billion in the first quarter of 2022, up $131 million. Net credit card revenue of $191 million in the first quarter of 2022, a rise of $32.
Lastly the company's earnings before interest, taxes, depreciation and amortization in the first quarter of 2022 was $676 million compared to $454 million in the first quarter of 2021. According to CFO Adrian Mitchell:
"We believe that our first quarter performance reflects the durability of the Polaris strategy. The actions we took in the quarter to boost our liquidity and increase our financial flexibility provides us a long runway to invest further in our transformation, navigate the unprecedented macroeconomic environment and return capital to shareholders."