Why did Duolingo stock soared 40% on Friday?
Duolingo reported strong results for its recent fiscal quarter on Friday that sent shares up nearly 40%.
---
Duolingo Inc. stock closed up roughly 40% after the company reported strong results for the first quarter of its fiscal 2022.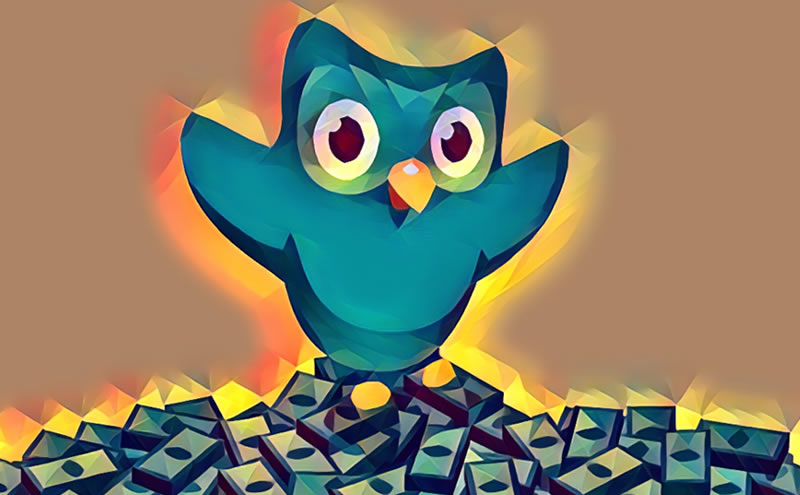 Duolingo is the world's most popular mobile learning platform, with over 45 million monthly active users and courses in over 40 languages. Its flagship programme has become the world's greatest way to study languages and the top-grossing app in the Education category on both Google Play and the Apple App Store, with over 500 million downloads.
What was noteworthy in the earnings report?
For the first quarter 2022 the total bookings were $102.1 million which is a rise of 55% from the first quarter of 2021. However the subscription bookings rose by 56% to $78.5 million compared to the same period in previous year.
Paid Subscribers were 2.9 million in the first quarter of 2022, up 60% from the previous quarter. While the monthly active users (MAUs) increased by 23% to 49.2 million from the previous quarter, however the daily active users (DAUs) surged by 31% to 12.5 million, both of which are all-time highs. Net revenues for the first quarter of 2022 were $81.2 million, up 47% from the previous year's same quarter.
The net loss for the first quarter of 2022 was $12.2 million, relative to $13.5 million in the prior year period, with stock-based compensation accounting for the majority of the deficit. Finally, adjusted EBITDA came in at $3.9 million, up from $0.9 million in the first quarter of 2021.
What does Duolingo expect for the future?
For the second quarter 2022 and full year 2022 the company is expecting its total bookings to be between $86 million-$89million and $388 million- $397 million respectively. The revenue for the second quarter 2022 is estimated to be around $84 million- $87 million whereas for the full year 2022 the revenue will be around $349 million- $358 million.
And lastly the Adjusted EBTIDA for the second quarter 2022 is forecasted to be around $4 million to $1 million. In the earnings press release, CEO Luis von Ahn said:
"All elements of our business performed well this quarter and we saw accelerating user growth, record quarterly bookings, and strong margins. We believe these results come from the investments we've made in R&D to drive innovation and continuously make our products more effective, more fun, more engaging, and more social. Thanks to our strong results this quarter, we are increasing our guidance for bookings, revenue, and adjusted EBITDA for the full-year 2022."
The $3.53 billion company is still down more than 10% year-to-date.